LinkedIn is like a giant networking event combined with a resume megaphone. Viewed by employers as the "go-to" destination for finding professional candidates LinkedIn boasts 230 million users in more than 200 countries. There are over 57 million companies listed on LinkedIn, with more than 15 million open job listings. 6 people are hired every minute on LinkedIn, which means it's time for you to sharpen your profile and brush up on your social skills.
On LinkedIn, you present yourself solely as a formal, professional entity. Everyone on the site has the same intentions: to present and build themselves professionally. That makes the rules much easier to follow, and much easier to be noticed by the right people.
About 87% of recruiters use LinkedIn at some point in their recruitment process. With so many eyes on you, you must be prepared to wow with your profile. Recruiters are always on the hunt for great talent. Even if you are a passive candidate (still working, but open to new job opportunities), your profile and activity should be ready to impress.
In retrospect, not having a LinkedIn profile, not being active on the platform, or not using it properly can be equally detrimental. Employers now expect you to be tech-savvy and be connected to the online community.
You only get one chance to make a first impression, don't let yours be unprofessional. Check out our tips to make the most out of LinkedIn.
Prepare: Are you ready?
LinkedIn serves as an online version of your resume, with a little extra personality. You must prepare your profile to be eye-catching and effective. This may very well be your first impression on a recruiter or organization.
Disclaimer: These are only recommendations. There are no requirements for your social media behavior. The tips listed are only intended to be helpful, and we have a lot of inside information speaking from an organization comprised of hundreds of recruiters.
Privacy: Go Public
On LinkedIn, there is almost no reason to not make your whole profile completely public. On other sites like Facebook or Twitter, it makes sense to reserve most information for your friends. However, on LinkedIn, almost exclusively, strangers will be looking you up. Reserving information for an exclusive audience can lead them to move on to the next candidate.
(1) To change your privacy settings, log in and click on your profile.
(2) Then click on "Edit your public profile"
Here, you can select what you want to make public. It's best to click every box, but if you had to choose only a few, we recommend at the very least including your:
Picture
Headline
Current Positions
Past Positions
Education
(3) While you're in this section, edit your public profile URL.

If you recall when you signed up, LinkedIn gave you a random URL to share. Edit this to something a little easier on the eyes, also known as a vanity URL. Just as you would with a professional email, make sure it is appropriate and reflects your name. For example, if your name is Bob Smith, try something like linkedin.com/BobSmith1234 or linkedin.com/BobSmithLosAngeles, not linkedin.com/badboy97 or linkedin.com/pro4ubsmith.
Once you have your vanity URL, you can include it on your paper resumes. Recruiters can check out your profile and have a more dimensional view or see features that wouldn't fit on paper.
Intro
Your Intro is the section at the top of your profile. The information here is what others will see when you post or what recruiters will see when they search for candidates and land on a result page.

This section includes your photo, name, title, current position, and location. You can customize nearly every aspect of this – just click on the little pencil in the corner.
Make sure this is an accurate representation of you. Never make up a title or refer to yourself as a "Guru" or "Ninja." These phrases don't mean anything to recruiters and sound like made-up positions. They aren't searchable and don't speak to what you have done.
Picture Perfect
Your picture can make all the difference. While it may feel superfluous to feature a picture on a professional site, a photo can be the difference between landing the job and not. LinkedIn profiles with photos get 21 times more profile views and 36 times more messages (DMR).
A professionally taken photo will always be best. It's a worthy investment, but if you need to get out there right now, here are a few tips to help you get the perfect, job-winning LinkedIn profile picture:
ALWAYS wear professional clothes in your photo. The term "professional clothes" can vary from industry to industry, so pick what is appropriate.

You can take a photo of yourself, but be wary of the angles you employ. For a selfie, take it straight on, preferably from the chest up. It's usually best to grab a friend and have them take the picture, that way your arms aren't awkwardly positioned in the frame. Additionally, a photo that is too close can make viewers uncomfortable.

Whatever you do… NO CAR SELFIES. NEVER. NO MATTER WHAT. ABSOLUTELY NOT. The lighting may be in your favor, but it's so incredibly unprofessional, looks lazy, and can even suggest narcissism. Don't do it, you're worth so much more.
Do NOT take a photo from a past event and crop other people out of the frame. This photo is part of your digital resume, and resumes are strictly solo. Employers can totally see your friend's shoulder.

Just because you did get professional photos taken, doesn't always mean they are appropriate. Do NOT use photos from your wedding, graduation, or any other non-professional event. However, if you have a professional photo session coming up, bring a shirt and blazer with you and get a couple specialty business shots.
AND MOST IMPORTANTLY…
Say cheese! Your picture is supposed to look like you! What's the first thing you do when you meet someone? You smile. It's a natural human emotional cue to indicate that you are safe, nice, and welcoming. No matter how artsy you are, no staring pensively into the distance, no duck face, and no maniacal laughter either. Humans rely heavily on eye contact for social relationships, so look into the camera and keep the sunglasses away. A nice smile is all you need.
Experience
If you have a resume, you know how to do this section. Fill it out just as you would a resume. Make it easy to read, quick to reference, and accurately reflective of your past positions.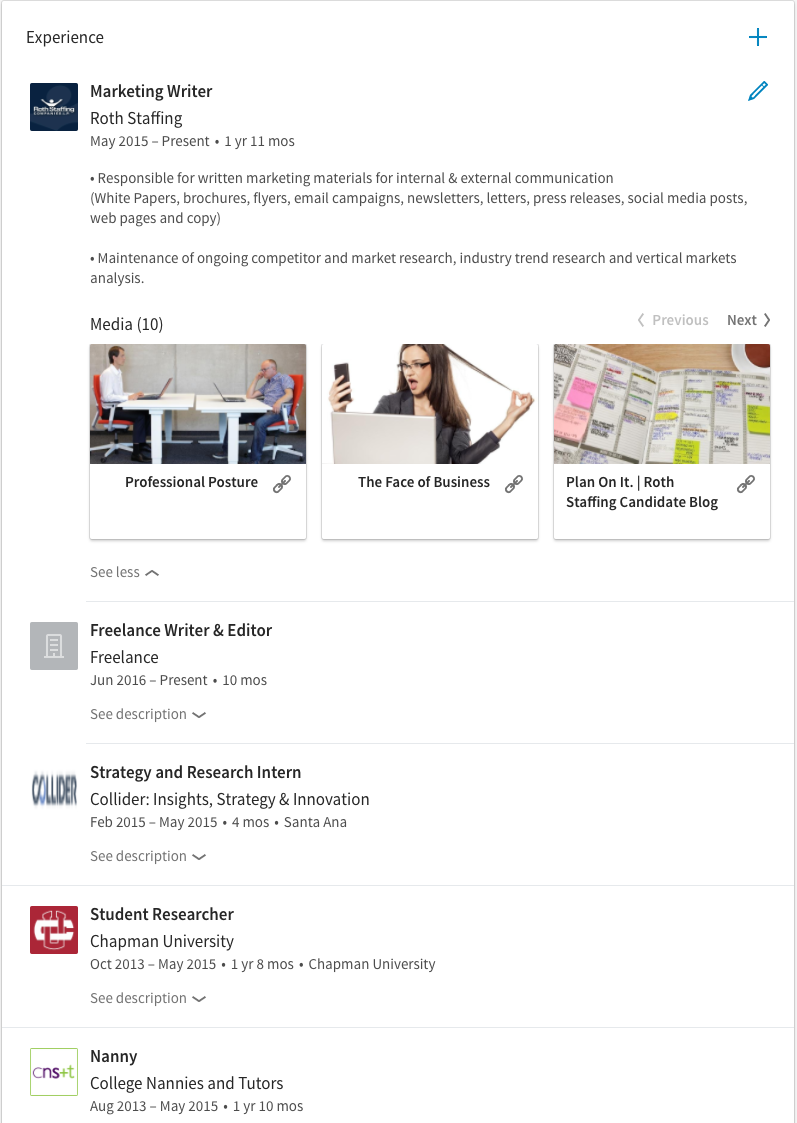 To optimize this section, consider these tips:
Link each position to its respective company page
Start descriptions with a brief and prompt overview of your position
Utilize bullet points to further describe the position and achievements
Employ action words (managed, created, grew, reduced, etc.)
Include supporting documents and links to other media
Use the appropriate tense (past-tense for past jobs, present-tense for current jobs)
Always double, triple, and quadruple check spelling and grammar
The key here will be prompt, effective language that speaks to your skills, responsibilities, and accomplishments. If you need help with your resume, reach out to your [Ultimate] representative for general resume tips and apply them to your LinkedIn profile.
Education
Your education section will be affected by how long you've been out of school.

To add to this section, click the plus sign. Include all levels of education. If you have a college degree, you do not have to include high school. Be sure to include activities, societies, and major projects (if they have a professional application). Include accomplishments like awards won, research conducted, or honors received – but unless you're working in education, employers likely aren't too invested in day-to-day activities from long ago.
You don't have to go nearly as in-depth as you do in your Experience section, especially if you've been out of school for a while. If you are a recent graduate with little experience, make sure to go more in depth.
Volunteer Experience
This section can give your profile dimension and shine a light on some of your passions. Include your past and present repeat volunteer experience. One Saturday serving at a soup kitchen is great, but it may come off as you trying to fill up space. However, if you coordinated a big event, like a charity walk, include that and the responsibilities and actions that were required.
Skills & Endorsements
Recruiters can search by skills, so make sure you flaunt yours! According to LinkedIn, members with 5 or more skills listed are contacted up to 33x more by recruiters and other LinkedIn members and receive up to 17x more profile views.
Only add current skills, don't include ones that you "kinda know." A good rule of thumb: If you were in an interview and the interviewer asked you to demonstrate a skill on the spot, you could perform it with flying colors.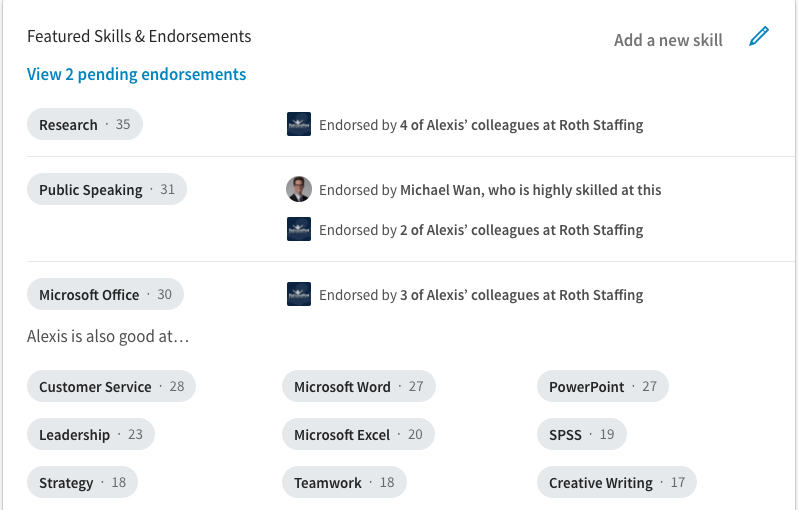 Your connections can then endorse these skills. A good way to increase your endorsements is to endorse others.
Recommendations
Your connections can write recommendations for you that will show up on your LinkedIn profile. Recommendations are extremely powerful when searching for a job.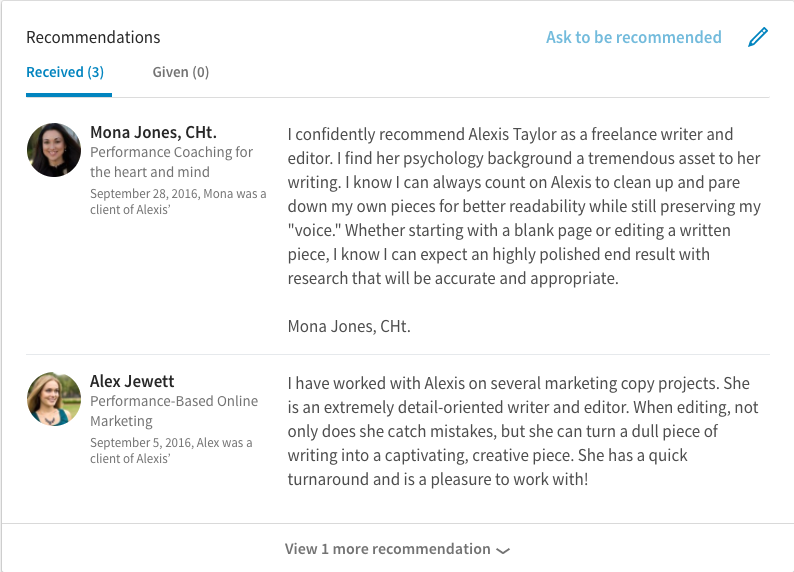 You can ask the connections you've worked closely with to recommend you. Click on "Ask to be recommended" to reach out to your connections.
It's best to reach out to your connections and ask prior to submitting this request. Follow each step accordingly and customize your message at the bottom.
Accomplishments
LinkedIn is the place to brag about yourself. In your Accomplishments section, list relevant recognitions and associations. Don't shy away from "softer" accomplishments that could highlight your cultural fit with an organization.
In this section, you can add:
Certifications
Courses
Honors & Awards
Languages Spoken (only add a language if you are fluent)
Patents
Projects
Publications
Test Scores
Organizations
Interests
This section highlights the Influencers, companies, groups, and schools you follow. Definitely expand this area, but try to avoid potentially controversial figures or causes – anyone can see who you follow.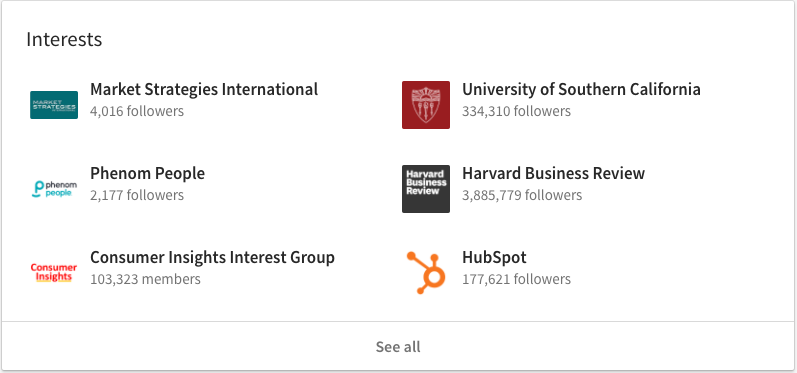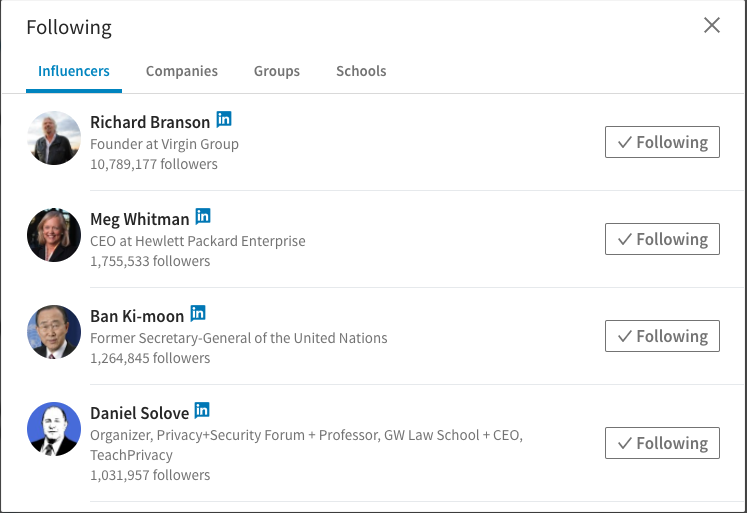 Join groups that pertain to your interests or experience and follow any and all organizations you may be interested in working for in the future. When their posts pop up in your feed, like and comment, making sure the organization sees you and you stay in front of them – follow the same rules for posting, sharing, and commenting below.
Be sure to add in plenty of publications so informative articles will show up on your feed – you never know what kind of information you'll be able to exhibit in an interview! Employers want to make sure they hire those who have a pulse on the industry and the current workspace.
Engaging Usage
Now that your profile is ready to mingle, your activity will continue to build your persona as a professional and an employee. It's not enough just to have a profile. When they click on your profile, recruiters can see your recent activity. No recent activity, or the wrong type of activity, can leave the wrong impression.
Adding Connections
When adding connections, begin with people you know. But don't be afraid to branch out to others in the industry or even recruiters at organizations you're interested in working with. When reaching out to somewhat random profiles for a connection, always go beyond the template and include a custom message.
Professionally and promptly, tell them why you are interested in connecting with them and include aspects of their profile that caught your eye. Quickly get to the point and don't be afraid to compliment them. A good message can mean the difference between a connection and a bad first impression.
Here are a few examples of typical messages you might send:
A Casual Acquaintance
Hi ______,
I'm glad we had the chance to meet through [connection]. I'd love to learn more about your work in [industry], particularly [topic]. Is LinkedIn your preferred method of contact?
Thank you,
Someone you met at a Networking Event
Hello _______,
It was great speaking to you at the [event] last month. I enjoyed hearing your ideas about [topic /industry], and I am very intrigued to see what will happen next. I'd definitely like to stay in touch and keep up on the latest in your career.
Thank you,
A Recruiter
Hello ___________,
I have been following [organization] and I came across your profile and couldn't resist reaching out. I have been working in [industry] for ___ years, and currently seeking new opportunities. I'd love to talk about whether my background might be a fit for the organization – and also keep up on the latest within [organization] from your perspective.
Thank you,
Recruiters get a lot of messages, so don't feel discouraged if you don't get a response immediately. Once you've connected, comment and like their posts and continue to message without being overwhelming.
Messaging
You can freely message anyone you're connected to. However, if you want to message someone you're not connected to, you will have to purchase InMail capabilities. If you are wary of dropping the cash, check out these tips from our Digital Marketing Manager, Valerie Killeen.
Tips from Within: InMail
Valerie supports our LinkedIn Partnership. Check out what Valerie has to say about InMail:
"No InMail, no problem!
For professionals without a premium LinkedIn subscription, communicating on LinkedIn can be a bit frustrating. If you'd like to send a message to someone that you're not connected to, you can join their LinkedIn group (members of a common group can send 15 free messages to fellow group members, per month).
LinkedIn group memberships are identified at the footer of each profile.
Once you've been approved to join the group you can search for their name within the group and select the envelope icon near their name to compose an InMail message.
The best part? If your InMail receives a response, you can communicate back and forth as many times as you'd like without deducting from your 14 remaining InMail messages.
Posting & Sharing
Posting on LinkedIn increases your visibility and the reach of your profile, but only if you do it right.
Anything you ever like, comment, or post, can be seen by every single one of your connections. And if someone in your network likes or comments on that, then it is visible to every single person in their network. It does not take long for a single like to find its way around the world.
Generally speaking, these are the best reasons to post on LinkedIn:
Professional accomplishments
New ideas or inspiration that relate to work-life
New development in your career or in the market
Industry announcements or trends
Job postings
Professional events that you are attending or promoting
Experts recommend posting a few times a week, but no more than once per day. If it doesn't fall into any of these categories, it may be better suited on a different platform.
Post articles. It's a quick and simple way to engage with your connections, as long as you remember your 3 R's: Recent, Relevant, and Reliable.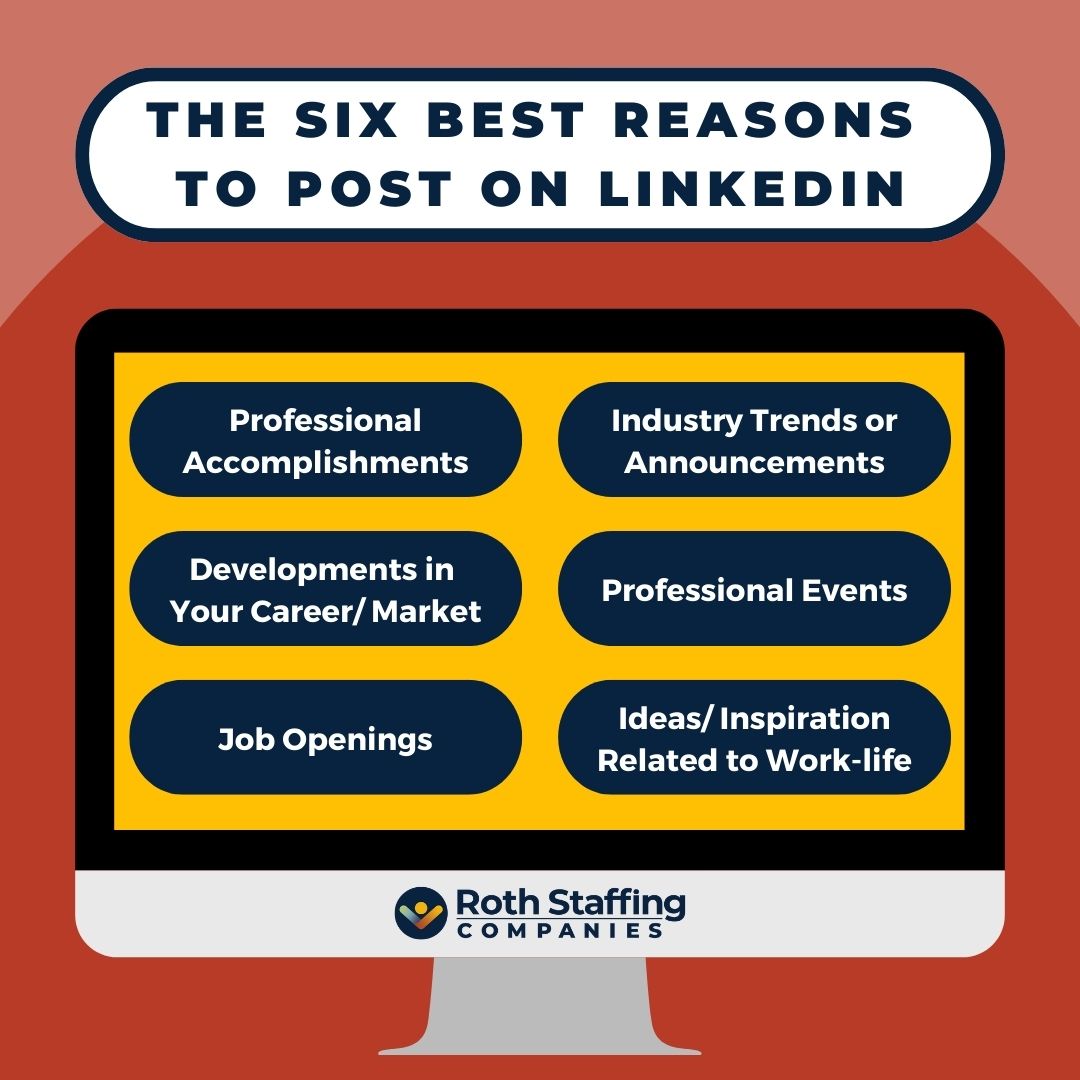 You can also create your own articles. Share your expertise with the world, just remember to keep it Recent, Relevant, and Reliable. Don't underestimate the power of your perspective.
Make sure outside articles and sources you post are coming from a reputable, professional source. For maximum engagement, include a quick sentence on why you find the article interesting, or one of your personal insights.
Pro-tip: People love to interact and share ideas, so pose a question at the end of your post. Ask a question that can lead to more than a yes or no answer; it has to get the conversation going. For example, you can say, I find it interesting that this expert discusses x and y as the driving factors, what have you found in your experience? Now the conversation is flowing and you're learning from your connections.
When posting, make sure you monitor your post appropriately. Don't check it every 5 minutes, but be sure to correspond with those who comment in a timely manner. If someone is acknowledging your post, acknowledge them – engagement goes both ways.
A quick "Like," a "Thank you," or "Totally Agree" can go a long way. Reciprocity is key.
Beware the 7 B's:
Better Half: Unless you're connecting your significant other with one of your online connections, or highlighting a professional accomplishment — there's really no need to post about them or your relationship. No anniversaries, no wedding photos.
Booze: it's no secret that your crazy weekend stories have no place in the office, and there's no place for them on LinkedIn.
Barack: Politics are a sensitive subject for a lot of people, and can lead to heated arguments quickly. Quite simply, it's just unprofessional to discuss in a professional space.
Bucks: Discussing your salary publicly on LinkedIn is a big no-no. This may scare away potential employers.
Beliefs: For many, religion, or lack thereof, is a very personal topic, and it should remain personal. Avoid religious posts, even if they are positive.
Battleground: Do not start arguments on LinkedIn, as that would be incredibly unprofessional. Also, avoid complaining about any current or past jobs.
Blades + Blasters: Weapons have no place in the workspace. Weapon-related posts can make people feel uncomfortable, so it's best to avoid these.
The rule should be: if I wouldn't share it in an interview, I probably shouldn't post it publicly.
NO. SELFIES. EVER. NEVER EVER EVER – unless they depict something else business-related going on in the background. Otherwise, you wouldn't stop a coworker as they walk down the hall to show them a selfie you took in your car, so don't post it on LinkedIn.
Posts that include a photo will get more attention, but the photo must be appropriate. If you won an award or attended an exciting professional event, by all means, post. However, you must make sure you still uphold professionalism, outfits included. That means no photos of you in a bathing suit poolside at a conference, or in any other outfit you wouldn't wear to the office.
You may be saying, "but the posts that violate all these rules are the ones who get the most Likes and Comments," and that's true. It's not necessarily a good thing that the post received so much attention. Don't try to go viral for the sake of going viral. You shouldn't be posting for Likes, you should post to educate and share ideas with your connections. Meaningful connections will always beat Likes.
Liking & Commenting
A friendly reminder: all of your connections can see everything you like and comment on. We repeat this twice since some people don't seem to realize that. Off-putting comments or liking inappropriate posts can ruin your professional image for a lot of connections and recruiters.
You have a lot of insight. Courteously share your ideas and learn from your connections.
Tips from Within: Don't be that guy
Our Social Media Manager Victoria Hayes spends most of her day on LinkedIn. Check out her list of the 10 most annoying people on LinkedIn. Her advice? "Don't be that guy."
The Facebook Police – These are the ones who berate others for inappropriate posts, or simply comment "Facebook" (insinuating the post should only be on Facebook and not LinkedIn). No one likes a party-pooper – if a post is truly inappropriate, report it.
The Complete Stranger – These users try to add connections with absolutely no connection or introduction.
The Selfie Queen – Let's face it – you're not fooling anyone by captioning your (usually somewhat provocative) selfie with an inspiring quote or recap of a recent career success. You wouldn't pull that out in an interview!
The Social Spammer – We don't need to see your Instagram, Twitter, and Facebook posts ALSO on Linkedin. Post appropriately on each channel
The Creep – They comment inappropriately on selfies. Or, they post inappropriately on articles or accomplishments. Again, if you wouldn't say it in the workplace, don't say it on LinkedIn.
The Narcissist – The person who likes their own posts. Of course, you like it – you wrote it!
The Troll – We've seen this guy on just about every social media platform. They disagree with every post and aren't shy about saying so – and usually not in a respectful manner. It's okay to introduce differing ideas, it's not okay to start an argument. If an exchange of ideas gets heated, know when to tap out.
The "Guru" – "HR guru" and "recruitment ninja" are not real job titles. Just be yourself!
The Philosopher –These users are always liking/sharing quotes. There's nothing wrong with a few every once in a while, but you should be focused on sharing your ideas.
The Over-Sharer – They share their professional stories, but weave in way too many intimate details.
Job Searching
Once your profile has been established and your activity has built it up, you are ready to hunt for a job.
Head to the top menu bar and click Jobs. Here, you can search for jobs of any kind, anywhere.

Every job posting will have its own requirements and its own process for application.
In the jobs section, you can also indicate to recruiters that you are open to new opportunities – without anyone at your organization seeing. LinkedIn's "Open Candidates" feature privately signals to other organizations what you have to offer and what you are interested in.
Go to the Jobs tab and click on Update Preferences.
Then you can fill out their guided form. Your "Note to recruiters" should read like a message/InMail meets Resume Summary, speaking to your skills and letting them know you are interested. Add any and all job titles you are interested in and qualified for. You can also include locations, including general, "Greater" areas, like the "Greater Los Angeles Area." You can even specify the type of work you're looking for, including Full-time, Part-time, Internship, Remote, Freelance, and Contract.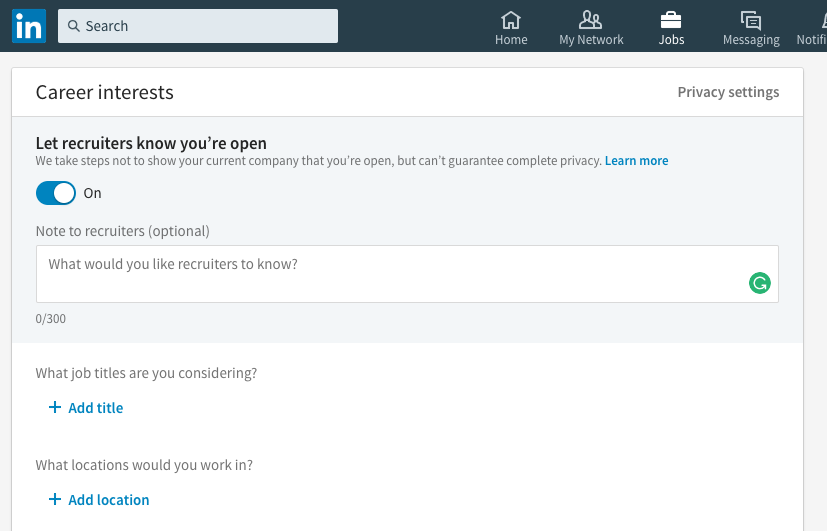 Then, recruiters will have the opportunity to reach out to you. However, this does not mean that you should sit back and relax. Continue to reach out and apply for jobs.
Should I go Premium?
Looking for work is an area where a Premium Membership might be most beneficial. A Premium Membership allows you to:
Reach out directly to any recruiter or job poster with 3 InMail credits
See who's viewed your profile in the last 90 days and how they found you
Move to the top of recruiters' applicant lists
See how you compare to other candidates
Gain access to online video courses
See salary details when browsing jobs without sharing your personal data
The first month is free, but monthly payments range from $25+.
Continued Engagement
It will be most important that you continue to be active on LinkedIn, even when you are not looking for a job. While 67% of Facebook users engage daily, only 40% of LinkedIn users do the same. Make sure you're not only active when you need something. Recommend others and endorse their skills, and assure you have a symbiotic relationship with your connections.
Comment, Like, and post even when you are happily employed. Engage with your employer and boast about your current work and other workplace events. Share company content and don't be shy about your accomplishments. LinkedIn is not just for job searching, it's primarily an online network for professionals to share expertise, get inspired, and a place to build professional credibility.
Roth Staffing is passionate about helping you in your job search. You have the smarts, experience, and the passion to catch the eye of top employers. Our specialized recruiters are here to support your unique staffing and recruiting needs. Contact us today.